Skip to content
Racial Justice and Inclusion
Welcome to the Division of Finance Racial Justice and Inclusion Working Group
About the Racial Justice and Inclusion Working Group
Mission Statement:
The Division of Finance seeks to ground itself in the tenets of anti-racism, inclusion, and belonging. This is a constant, ongoing process that will be achieved by honest and earnest dialogue, as well as active listening, with the hopes of challenging our innate assumptions and increasing understanding of those who are different from us. We aim to interrupt racism, bigotry, and prejudice and to achieve equity and racial justice, not just within the Division of Finance, but with everyone we encounter on a day-to-day basis.
Goals:
We recognize diversity and inclusion is paramount to a positive and thriving work environment; it is a business imperative.
We celebrate the diversity that every individual brings to Penn.
We value you and the unique life experiences that make you, you.
We embrace and support inclusion; we cultivate it in our actions and interactions every day.
We insist upon a positive work environment for everyone.
We do not support, harbor, protect, ignore, or hide from acts of disrespect, exclusionary behaviors, or toxic bias.
Contact Us:
DoFRacialJustice@pobox.upenn.edu
Visit the Division of Finance Book Club
Celebrate Juneteenth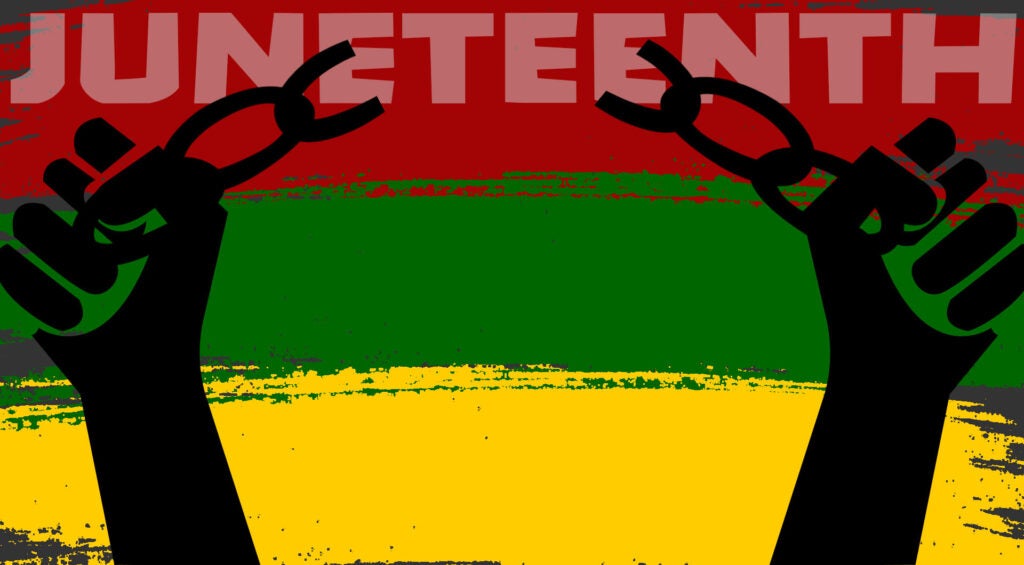 Juneteenth is a federal holiday in the United States commemorating the emancipation of enslaved African Americans. Deriving its name from combining "June" and "nineteenth", it is celebrated on the anniversary of the order, issued by Major General Gordon Granger on June 19, 1865, proclaiming freedom for slaves in Texas. Originating in Galveston, Juneteenth has since been observed annually in various parts of the United States, often broadly celebrating African-American culture. The day was first recognized as a federal holiday in 2021, when President Joe Biden signed the Juneteenth National Independence Day Act into law after the efforts of Lula Briggs Galloway, Opal Lee, and others.
Source: wikipedia.com
A Guide to Juneteenth Celebrations in Greater Philadelphia in 2023
Festivals, music performances, art showcases, historical reenactments, and much more.
February 2023 was Black History Month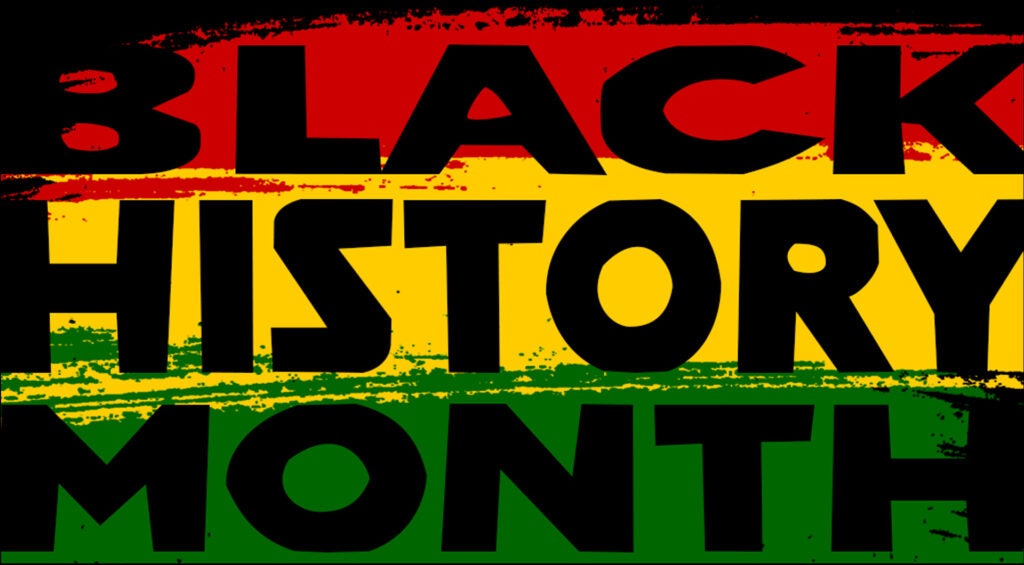 Black History Month is an annual celebration of achievements by African Americans and a time for recognizing their central role in U.S. history. Also known as African American History Month, the event grew out of "Negro History Week," the brainchild of noted historian Carter G. Woodson and other prominent African Americans. Since 1976, every U.S. president has officially designated the month of February as Black History Month. Other countries around the world, including Canada and the United Kingdom, also devote a month to celebrating Black history.
Source: history.com
Additional resources to learn more about Black History Month
Dr. Martin Luther King Jr. Day of Service - January 16, 2023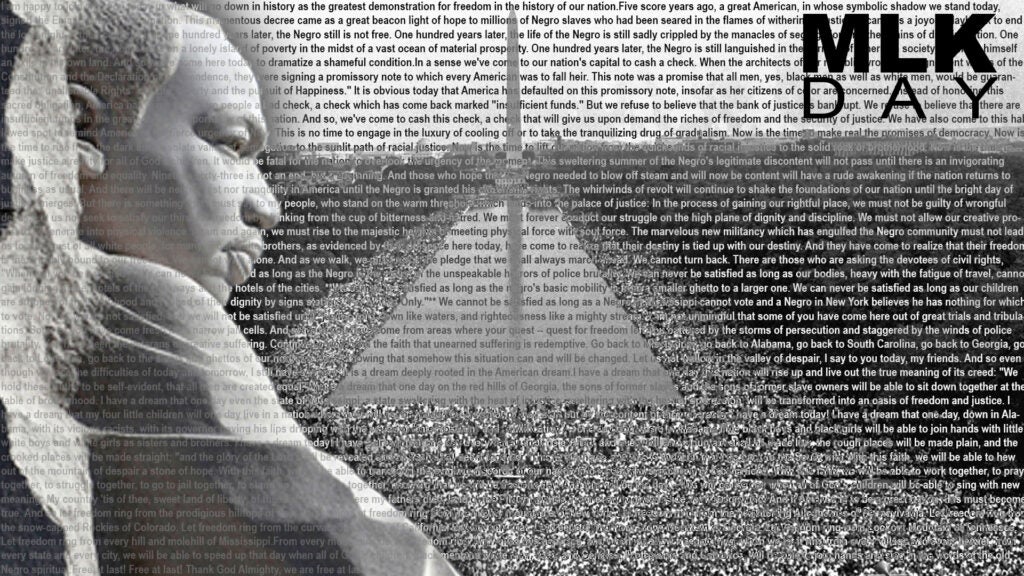 2023 MLK Day Community Events
The Greater Philadelphia Martin Luther King Day of Service, the largest MLK Day event in the nation, and Global Citizen, promotes year-round volunteer service and civic engagement.

Martin Luther King Jr. Day at the National Constitution Center
Monday, January 16, 2023 | 10 a.m. – 5 p.m.
Enjoy free admission and extended hours at the National Constitution Center on Martin Luther King Jr. Day. Special programming includes two readings of MLK's historic "I Have a Dream" speech at 11:45 a.m. and 1:45 p.m., family-friendly concerts featuring songs from the civil rights era, and arts and craft activity tables in the grand hall lobby.

Dr. Martin Luther King Jr. Day at Eastern State Penitentiary
Monday, January 16, 2023 | 11 a.m. – 4:45 p.m.
This free all-ages event at Philly's historic Eastern State Penitentiary commemorates Martin Luther King Jr.'s legacy with special emphasis on his "Letter from Birmingham Jail," an open letter he penned while incarcerated in 1963. Throughout the day, guest speakers read excerpts from the letter and other monumental texts written by civil rights leaders. From noon to 2 p.m., kids can participate in special storytime circles and hands-on activities.

MLK Lecture in Social Justice featuring Nikole Hannah-Jones
Wednesday, January 25 | 5:30p.m. – 7:p.m.  | Zellerbach Theater (Annenberg)
African-American Resource Center
Each year, during the month of January, the University of Pennsylvania and our surrounding communities come together to commemorate the life and legacy of Dr. Martin Luther King, Jr. The commemoration reminds us of our interdependence and reaffirms our commitment to the betterment of our communities through civility and service.Opening our doors to embrace programming and visitors dedicated to realizing Dr. King's vision transforms the campus. Sharing our strengths and diversity as we commemorate Dr. King has an impact that can be felt across both the University of Pennsylvania's campus and the Philadelphia community as a whole.
November was National Native American History Month

Some Historical Background of Native Americans
Native Americans have been living on the American continent since about 12,000 B.C. They were not a single nation but a rich variety of cultures, peoples, and languages.
The term "Native American" does not usually refer to Native Hawaiians or Alaskan Natives, such as Aleut, Yup'ik, or Inuit peoples.
Most indigenous people in the U.S. use "American Indian," while most indigenous people in Canada use "First Nations.""Native Americans" or "indigenous Americans" are often used for people in both countries.
There are about 4.5 million people of Native American and Alaska Native heritage in the U.S. This group makes up about1.5% of the U.S. population.
There are 566 federally recognized Native American tribes, in addition to an unknown number of tribes that are not federally recognized.
In 2013, the states with the highest percentage of American Indian and Alaska Native population were Alaska (14.3%),Oklahoma (7.5%), New Mexico (9.1%), South Dakota (8.5%), and Montana (6.8%).
According to the U.S. Census Bureau, the largest tribal groups in the U.S are the Cherokee, Navajo, Chippewa (Ojibwa),Apache, Choctaw, Iroquois, Lumbee, Pueblo, and Sioux (Lakota).
Even though they were not citizens, over 8,000 Native Americans served during WWI.
The Indian Citizenship Act (Snyder Act) of 1924 granted full U.S. citizenship to America's indigenous peoples. It was enacted in part due to the recognition of thousands of Native Americans who served in WWI.
Over 24,000 Native Americans served during WWII. One of the most notable groups was the Navajo Code Talkers, who were a special group of volunteers who created an unbreakable secret code.
Sources: factretriever.com and Wikipedia
Tragic Past with Modern Consequences
When Christopher Columbus reached the New World in 1492, it is estimated there were between 2-18 million Native Americans living in North America. By 1900, conflict and disease reduced the population to about 250,000 in the U.S and100,000 in Canada.
Europeans introduced several new and fatal diseases to the Native Americans. The most well-known disease was small pox, which decimated the Native Americans. Others killers included cholera and measles.
The U.S. Congress passed the Indian Removal Act in 1830 that forced American Indians tribes to agree to cede land east of the Mississippi River. In 1838, the U.S. military forced the Cherokee, Creek, Chickasaw, Choctaw, and Seminole Indians to walk from Georgia to Louisiana, which has become known as the "Trail of Tears." Thousands of those who walked died from disease, starvation, and exposure to bitterly cold weather.
One quarter of Native American children live in poverty, compared to 13% in the United States. Native American teens graduate high school at a rate 17% lower than the national average while substance-abuse rates are higher.
Americans Indians are 177% more likely to die from diabetes than non-Natives. About 500% are more likely to die from tuberculosis, and 82% are more likely to die from suicide.
The number of suicides of young Native Americans is more than 3 times the national average and up to 10 times the average on some reservations.
Native American infant mortality rates are 60% higher than for Caucasians.
Native American young adults are twice as likely as any other ethnic group to die before the age of 24.
A young girl born on an Indian reservation has a 1 in 3 chance or higher that she will be abused during the course of her life. Native women experience the highest rates of assault of any group in the United States.
Sources: factretriever.com and Wikipedia
State Names Influenced by Native American Language
October was Breast Cancer Awareness Month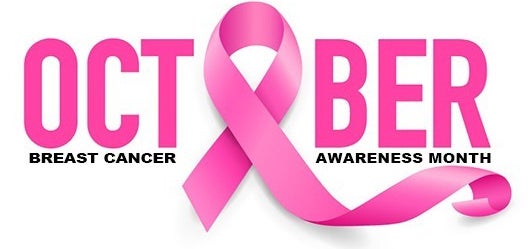 On Wednesdays We Wear Pink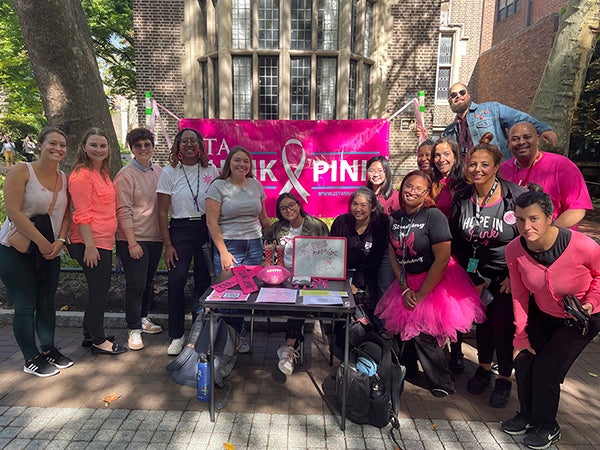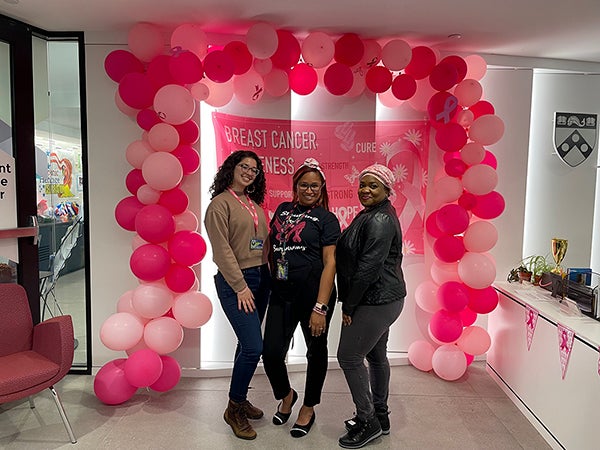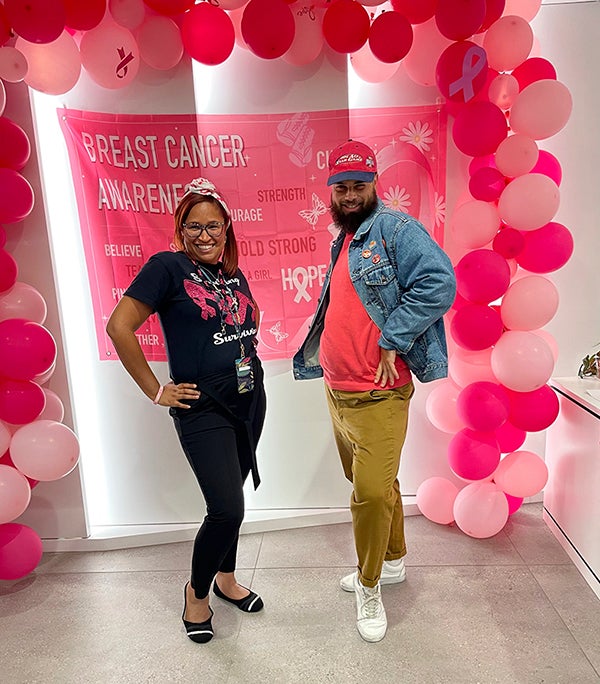 George Floyd's Impact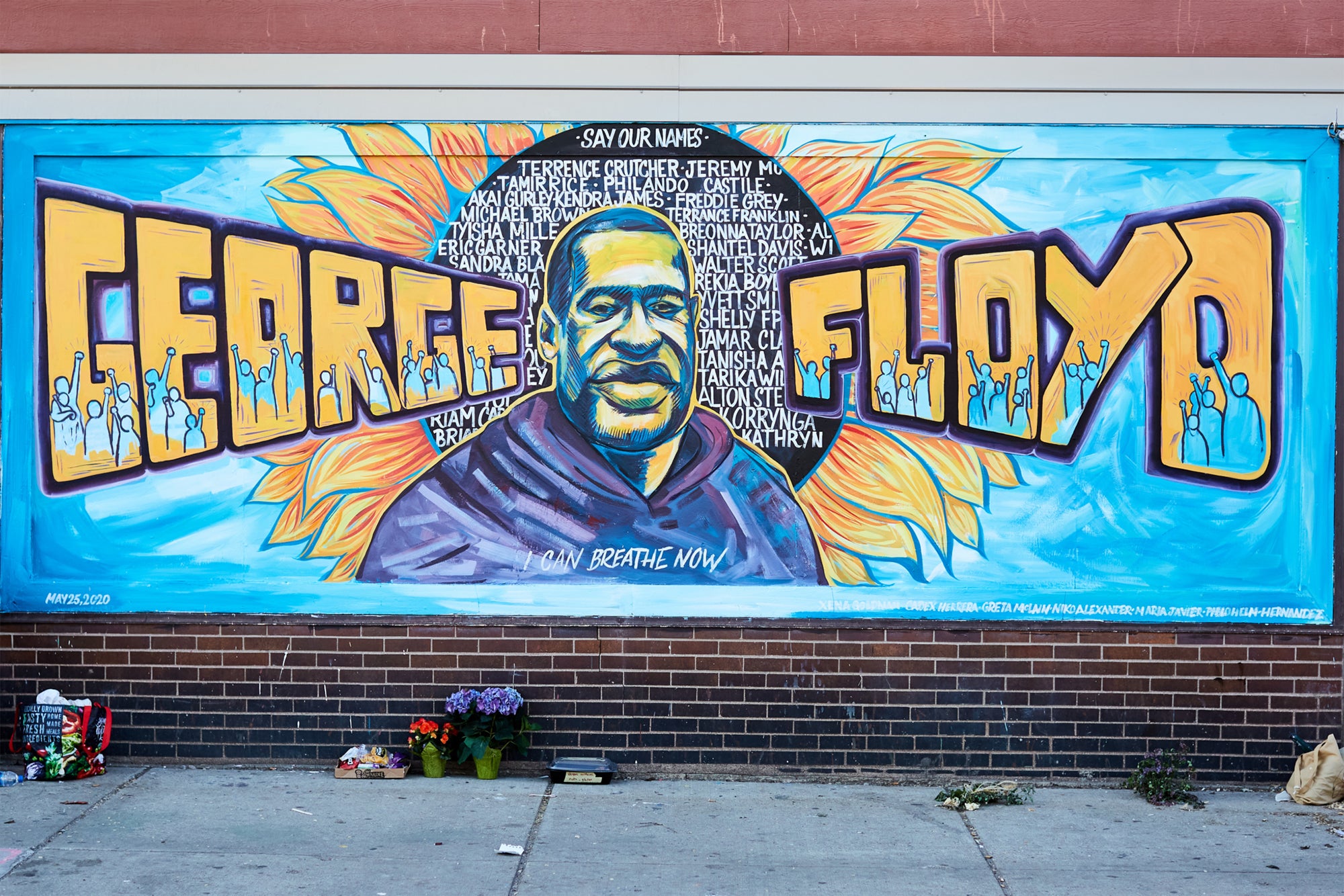 Please take a moment to self-reflect on changes you've made, things you've learned, and take some time to view these links that illustrate some monumental impacts George Floyd has had on America.